I write for the exotica of pen between my fingers to tickle the straightness out of the clear blue lines on the begging white pages; to stop myself from thinking how pleasant it must be on the brink of insanity; to give myself the gift of Inky Blue Allusions.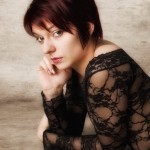 I hope you'll have a good time browsing around Inky Blue Allusions. We've been working hard to make this a site that gives you lots of the things you want. We have a nice selection of free stories and don't forget our erotic serial stories and true confessions! As well, we like to have fun with our Erotic Reviews!
And don't forget that both me (Autumn) and Sylvie and Ashley have our own blogs so check them out!
Cheers!