By Irish Eyes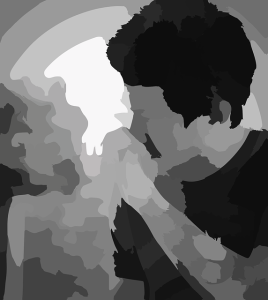 I'm a strong, independent, sexy woman. I'm allowed to change my mind if I want to. In fact, sometimes I take great delight in changing my mind and learning something new.
I have a good friend; I'll call him David, who I see when he's available.  We have amazing, hot sex whenever possible. This is one of my favorite men and I can come just from kissing with him! His touches drive me wild. He knows what I love and he is a generous lover.
One afternoon, we met when I finished working for the morning. He drove over to my house, texting me on the way! He asked "Are you naked, yet".
I told him "No, it's too cold in here. You'll need to warm me up". We kept going with the sexual banter until a few moments before he drove up my driveway.
Although, I wasn't naked, I did meet him at the door wearing red panties, red bra, and an open purple satin robe which barely skimmed my ass. I was in his arms and being kissed before the door closed! Hmmmmmm. I LOVE kissing, especially this man! I closed the door and we moved into my bedroom where we continued our embraces. I was definitely getting warmer! David took off most of his clothes, except his boxers, and started exploring my body. He deftly undid my bra and removed that as well as the satin robe. Lying next to him, snuggled in his arm, I started stroking his cock, sliding his boxers down. He slipped my panties off and I lay down on top of his body, rubbing my wet pussy against his hard, hot cock, sliding the tip of his cock near my clit, getting us both hotter. We kept kissing, his hands sliding over my back, over my ass.
After a few minutes of this slow, sensual connecting, I slid off of his body and moved my mouth down to his cock. OMG, I love David's cock. It is just right; not too big, not too small, very hot and very hard. And it responds wonderfully. I started licking him, sliding my mouth around the tip, flicking my tongue at the urethral opening, causing him to catch his breath. I licked down one side of the shaft and up the other side, I spent leisurely time licking and sucking his balls, while my hand stroked his cock. Every now and then, I'd hear him softly say "Fuck!" or "Ahhhh!" so I figured I was doing well! His hand moved over and started playing with my hot, wet pussy. I had some toys out, and I felt him sliding my favorite vibrator (a little cool with the lube he applied) on my clit and into my vagina. With such wonderful distraction, I lay back (temporarily abandoning his cock) and let him play with me. Hmmmmm. He slipped my thinner vibrator into my ass, and played me like an instrument!! I came with an earth-shattering, eye-rolling orgasm.
When I was able to move again, I turned over on to my abdomen, with a pillow under my hips and David slid his hard cock (appropriately covered with one of my condoms) into my pussy from behind. With my legs together preventing me from moving much and his cock pounding into my pussy, I felt somewhat submissive (which is very exciting to me). In moments, we both came and moved to snuggling under a light blanket.
Usually when David visits, we only have time for him to have one orgasm, but this time, as we snuggled, he moved my hand a bit south and told me to get him up again. Well, I was more than willing and my hands quickly had him hard as a rock again. I was very impressed with his resiliency. Another condom, and he was fucking my ass from behind. OMG, he knows I love that, and hadn't had a chance to do in a while. Again, we both came and collapsed into an embrace.
Well, again, I thought that he was done. But he moved my hand back down to his cock again, and he was hard again!! I couldn't believe it. I climbed on top of him and slipped him inside of me. I rode on top of him (which we had never done together) until I came a couple of more times and was exhausted (that makes 6-7 for me!). I slid off of his chest again and went back down to his cock.
I started licking and sucking him again, like I had earlier, playfully, licking up one side and down the other. Making love to his cock with my mouth, which I love to do. Very slowly and sensuously. Driving him crazy. Exploring everything. Licking his balls and watching him react again. I started getting more serious with my mouth, adding a firmer, more consistent hand stroke to the mix. I watched his eyes and smiled as I felt him respond.
He said "You don't swallow, do you?"
I said "I don't usually, but I'm thinking of reconsidering".
He said "If you keep doing that, I'm going to come soon". So I kept doing it!
In the past, I haven't wanted to let a man come in my mouth. When I was married, I didn't like the taste of my husband's semen. He kind of made it a big deal that I wouldn't and said that I didn't really love him! Then when we got in the middle of the divorce (over a lot of other issues), he threw it at me, "If you had let me come in your mouth, this wouldn't be happening". Well, fuck that! That had nothing to do with it. But it influenced how I felt about the whole thing. I love licking and sucking my partner's cock (as you can probably guess from how I describe it), but had always made it an appetizer, never the entrée. Just a way to give pleasure and get ready for other sexual adventures.
Well, today, I decided it was time for me to find out. I wanted to give this gift to this man and I wanted to find out how I really felt about it (in a loving, caring, and sensual environment). So, my mouth got more serious, my hand giving steadier, smooth strokes, and I decided to keep going. Wow! It was so exciting feeling him getting close to orgasm. The more aroused he got, the more aroused I got (not like those bored women in the porn flicks who are so mechanically sucking!). So incredibly sexy!! I felt the change of tension in his cock. I tasted the difference between the pre-ejaculate and the ejaculate. (Now, this being his third time to come, there was less force and less volume this time, but that was fine). I heard his exclamations. My mouth filled with his cum, I swallowed, and I smiled!
David was speechless! He just kept shuddering and taking deep breaths. When he could finally speak, he said he had never had anything like that before. It was truly amazing for both of us. I felt incredibly powerful and fulfilled. I felt that I had given everything I had and it was wonderful. I learned that to please your partner, all you have to do is really pay attention to your partner and their response, give unconditionally, and be completely present in the moment! Piece of cake!
So, I delighted in changing my mind. Deciding to do something I thought I didn't like and finding that it was an incredibly erotic experience. Who knows what I'll want to try next in my sexual journey??
Originally posted 2012-12-20 05:14:26.