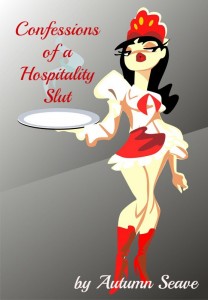 So, are you ready for the release of Confessions of a Hospitality Slut?
I'm almost done editing and I am so excited from all the writing.  I don't just mean about getting that book out there for you to read.  I mean, it seriously gets me excited.  I might have to take a bit of a break from writing after this one!
Anyway, I thought I'd put one more teaser out there for you since I've made you wait so long.
Tell me what you think…
Mario lifted me up onto the counter.  My hands were in his hair and it was pretty obvious that the lust I felt for him was completely reciprocal. His hands pulled at my shirt that was tucked into my dress pants and then his hands were searing an imprint onto my back, my stomach, and my shoulders.  I was on fire and I just wanted more.
It did not take him long before he'd unhooked my bra at the back and his hands were at my breasts.  My body responded and encouraged him.  My nipples were aching with hardness as he rubbed the palm of his hands against them.  My legs wrapped around his waist pulling him close as he kissed me firmly.
He was completely in control.  I knew it and he knew it.
We finally slowed to get our breath and he started to undo the buttons on my shirt.
"If you want to stop you have to tell me now Lee Anne.  I cannot stop unless you tell me to.  I have been thinking about ravishing you ever since you started here."
"No, don't stop," I said, kissing him on the lips.  "I want this. I need this.  I need you."
With my shirt unbuttoned he started kissing his way down my neck until his mouth found my left breast.  The heat of his mouth was intense and when he sucked the nipple into his mouth I felt like I would explode.  His tongue swirled around the nipple and then he'd pull it back into his mouth again.  At the same time, his hand was at my right breast, cupping gently, rubbing his thumb against the nipple.  He switched and made my right breast feel like it was on fire. I never wanted him to stop.
Not until he started working his way down my belly.  Knowing where he was heading, I lifted my hips slightly so he could pull my panties off.  I was already dripping wet with excitement.  I could hardly contain myself and was a ball of nerves until he is mouth finally found what he was looking for.  The second that his mouth found my pussy, my brain exploded into a ball of colors.  My eyes were tightly closed but there were flashes going off in my brain that were better than any fireworks show I'd ever seen.
After sucking up as much of my pussy juices as he could, he pulled back a little and let his tongue go to work. Up and down my sensitive slit, his tongue worked slow and sensually.  He'd stop at the top to suck my clit into his mouth for a moment and then went back to teasing me.  It was a cruel game that I completely loved.
Originally posted 2013-07-13 07:54:29.