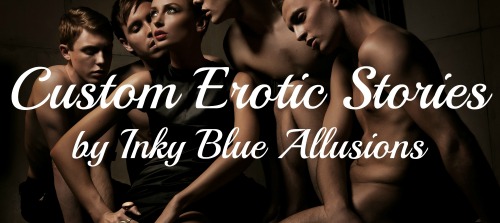 Custom erotic stories are AVAILABLE once again! Keep reading to find out more about ordering!
Do you have a fantasy that you would like to have put into words?  Maybe it is a fantasy you'd like to share with your spouse or partner?  Or maybe you'd like a special night you've had with a special someone developed into a story so that you can relive it again and again?
Then this service is for you!
Personalized erotic stories are great for fun and your own personal enjoyment. A customized erotic story can also be great as a gift!
We turn your sexiest thoughts into amazing stories that you can share or keep to yourself.
Prices
Flash-story: 750 words- $50
Mini-story: 1500 words – $70
Short-story: 3000 words – $125
Longer-story: 5000 words- $185
***DISCLAIMER*** All copyright to these stories remains with Inky Blue Allusions. Please see our terms below for more info
How to Order
Fill in the form at the bottom of the page. I will confirm your email and respond with an estimated date of delivery and an email to make payment. After I receive your responses I may have a few more questions to fill in some details.
After we've agreed on the details of the story I will give you an email to make payment.
When payment has been received I will start writing your story. I can take up to three weeks, depending on the amount of stories in my queue.  Your story will be delivered electronically in PDF form.
Reviews:
Marc Angel at The Erotic Woman reviewed my services years ago.  This is what he had to say:
Terms of Service
There are no refunds but I will do some changes after it is delivered.  We're talking about minor changes here – not rewriting the whole story. That's why we have a consultation.
Although these stories are written specifically for you the copyright on them remains with me.  That means you can't publish it online or sell it to anyone.  I may or may not publish the story on the membership section of the site or on an ebook platform but I WILL change names, locations, and any identifying characteristics of the characters.
You must be 18+ to order a story.
I will not write about bestiality, rape, incest, or sex with characters that are under 18.  I will write about shape shifters, BDSM, pseudo-incest (step or adopted family). If you come up with something so bizarre and offensive that I hadn't considered whether I would write about it or not I'll let you know if I will in the email consultation.
None of the identifying, contact or billing information you provide is ever disclosed to any third party, except as necessary for Inky Blue Allusions to fulfill its obligation to you.  Paypal handles our credit card transactions and they are the only entity other than Inky Blue Allusions that ever sees or handles your billing information. We neither sell nor share our customer list for marketing purposes.