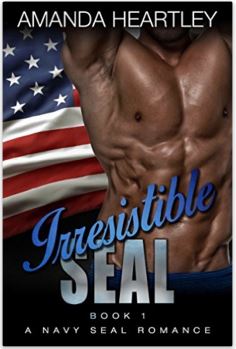 Are you in love with sexy military men?  Looking for something new in the military erotic romance genre?
Luke has spent the last 12 years of his life as a SEAL in the Navy.  His unhappy childhood was the main factor in giving up so much of his life but he loved what he did.  But it's been a long time since he's been able to maintain any kind of relationship.  And recently, he's been thinking that maybe it would be nice to have a woman – maybe even a wife – to come home to.  Maybe even a couple kids.  Someone to love him.
Juliet is a bit stubborn but she's very smart.  She works in finance and she does love her career – even if it does take all of her time and energy most of the time.  Her father persuaded her to take a job in Manhattan and its even more time consuming.  Sometimes she's too busy to be lonely and if loneliness does rear its ugly head she just turns to shopping. That usually does the trick.  More recently though, it hasn't been.  When it's not working she goes to an online dating site, thinking maybe she should give romance a shot and that's where she finds the most interesting man – Luke.
That's when things really get hot and spicy.  Not a moment that they have together is anything less than fiery.
Luke has a lot of pride that stands in his way though.  Will he ever be able to work through it or will they both end up…alone?
(This is part 1 of a series)
Trust me when I tell you that this spicy romance will leave you wanting more.  And you'll be willing to wait until the next part comes out because you're going to want to know the whole story!