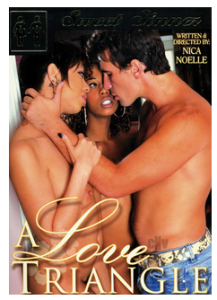 Misty has it made.  She's got a hot babe of a lady named Satine, who is ready to move in with her and they are so in love. The heat level is intense!
But (of course, there is a but), her ex-husband, Manuel, is still in love with her, too!  He constantly calls her and it drives Satine, absolutely crazy.  Satine gets so angry about Manuel constantly calling Misty that she decides to confront him…and ends up falling for him.  Of course, her attraction to this hot guy is confusing so she decides that she's got to seduce him to find out once and for all where here true feelings lie.
All is not done between Misty and Manuel though.  They are having a little thing of their own, too that Satine does not know about.
It is the ultimate triangle and of course it results in some truly steamy scenes!
Buy A Love Triangle – CLICK HERE!