The Classix Butterfly Strap On is a nifty little toy for the woman who likes to have her hands free for other things (and ladies, I know you can think of a few other things to do with you hands when you're playing!). It comes with a clear jelly sleeve with delicious little nubs for a sexy clitoral massage, a battery operated bullet that slides into the sleeve, and an elastic harness that is adjustable for your comfort. (One thing that should be noted about the harness is that it likely will not be overly suitable for the above average sized woman. If you're wearing plus sizes in clothing you likely won't be able to use the harness with comfort).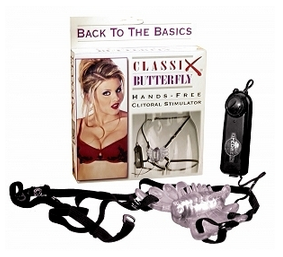 Now, what to do with it…that's what we all want to know isn't it? Well, this baby is great for solo play because now, not only can you get some direct clitoral stimulation but you can also get some penetration if you bring in a dildo or vibrator to enhance the experience. And I'm sure that by now, most of you ladies know that multiple sensations bring greater orgasms! Strap this baby on and you can use your fingers or another toy to penetrate your pussy and you'll have a great time!
And if you want to use this with a partner! Once strapped on securely you partner can penetrate you from behind, in the missionary position, girl on top, or pretty much anything else. Guys, if your lady ever complains that she doesn't get enough clitoral stimulation while you're inside of her this could be a god-send!
The vibrations on this baby are pretty good. Choose from one of many speeds and find one that works best for you. It's average when it comes to noise level and great when it comes to stimulation.
I loved this toy and it is fun whether you are using it alone or with a friend. And don't forget you get 15 free minutes of pay-per-view movies when you order this toy!
Click here to order the Classix Butterfly Strap On now!