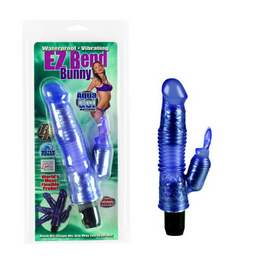 Ladies, have you ever had one of those vibrators that was fabulous in every which way except for the fact that it was totally rigid?  And sorry guys, as much as you would like to think that your cock is as hard as a pole, it just isn't.  When we have a new toy to play with, being rigid is not a plus!
But this isn't the case with the EZ Bend Bunny.  This toy is fashioned after the oh-so-popular rabbit vibrator from Sex in the City (remember how Charlotte wouldn't leave her apartment?  Well, for those of you who have never tried a rabbit-style vibrator, there's a damn good reason for it!).  But this is even better.  It's soft and pliable and that makes it good for a variety of positions.
The shaft of the vibrator is made of a ribbed (and we like ribbed) jelly and it bends both forwards and backwards just past the point where the rabbit clitoral stimulator is attached.  That means that the rabbit can stay just where you want it – right over your clit – while the shaft moves for ultimate pleasure.  It's 6 inches long, 1.5 inches wide and it's waterproof and it has multiple speeds!
Don't get jealous guys – this is something you can learn to use with your partner.  For women who have double penetration fantasies I highly recommend this toy.  We tried it in the doggie style position – him anally penetrating me with the toy in pussy.  I was able to bend it forwards so he wasn't constantly bumping into it and that damn rabbit was a lot of fun!  Or, you could try it with the toy as the anal penetrator while he's on top in the missionary position.  Direct that rabbit at his balls and I can gaurentee he ain't going to want to leave for a long time!
So, try this sexy and fun EZ Bend Bunny now!  It's only $28.30 so it's a great price.  And on top of that, don't forget that you get a free 15 minutes of streaming video with every purchase you make!