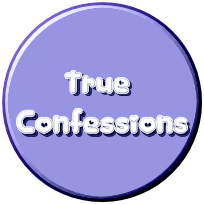 Some great shared stories on this site, I enjoyed reading them all. I guess I had better share my, erm, "confession" then.
I had moved down south from where my parent's family home was, with work and relationships. However, I did still try to go and visit them every couple of months. When I visit them I like to take the train, it takes about three or fours hours, but the train is usually not too busy (I don't travel during commuter hours) and I like to watch the rolling countryside or the bustling cities go by. Plus, I don't really like driving long distances.
Anyways, one time my father got ill. I won't go into the details, but he did get better and was on the path to recovery. During the time that he was recovering, my Mom needed more help than usual, and so I began to take weekly trips to visit them. Sometimes I would even travel up and down two or three times a week. As I'm sure you can imagine, the long train journeys started to drag on a bit, and there are only so many books I can read! I took to reading romantic erotic stories to while away the hours.
One day I was feeling a little sleepy, and actually nodded off in the train seat. This is not a wise thing for a girl travelling alone to do, I know, but the monotonous click click, clack clack of the train tracks has a kind of hypnotic effect I guess. I don't think I was asleep for long, but as I awoke again I completely forgot where I was and after stretching I stroked my breasts and reached a hand down between my legs just to check, you know, as I often do in the morning. Click click, clack clack. Oh shit, I'm on the train I thought!
I quickly sat upright and looked around to make sure noone had seen my fondling myself in my personal little moment. There were a couple of passengers in front of me, and since I was quite close to the back of the carriage, there wasn't anybody behind me. I realized I had got away with it. I could imagine the embarrassment I would have felt if somebody had seen me. The embarrassment. I then realized that the thought of getting caught like that was quite appealing. I don't know why, I have never had those kind of tendencies before, but realizing that I could do something like run my hands between my legs here on a public train and noone knew was suddenly very exciting indeed.
I peered out the window and realized that anyone outside could see straight in. But this was a moving train, noone is standing outside. The closest you can get on a train to someone standing outside is when you are at a station, or when the train passes under the windows of a row of apartments. Peeking around again, I lifted my dress up. First to my thighs, and then right up to my waist, revealing my panties. The feeling was very strange, although amazingly exciting at the same time. My heartbeat had raised a level, and I had a strange complusion to go even further. Slipping a hand under my pantie elastic, I pulled them to one side, and now my pussy was completely exposed. I had never done anything like this on a train ride before, flashing my most initmate body parts like that. I really like it I decided.
The panties are getting in the way I thought, and without a second thought (I really should have been more careful I suppose haha) I raised my butt slightly and slipped them off. Not wasting any time, I put them in my travel bag, and then sat back in the seat again. This time I hitched my dress right up, and parted my legs right there in the seat. The feeling was incredible. I felt so excited, and also completely enveloped in a wave of pleasure. The feeling was instense, and I sat there stroking my pussy ever so softly to encourage it. We passed some houses outside, and I didn't even bother to cover myself. I imagined men and women peering out of their windows of the moving train, and catching a glimpse of the "mystery pussy lady" as the train whizzed by. This excited me even more. I rubbed my pussy now, and then it dawned on me that we were approaching a station.
It's one thing to expose myself as we are travelling along at speed, I thought, but quite another really to do it to someone in the station who could board the train at any moment and catch me. So I pulled my dress down again and acted all innocent as a few people boarded and departed the train. There were several people around, and one guy caught my eye. He was leaning on a clock stand with his hands in his pockets, looking bored. Then he glanced at me, and I glanced back. His gaze lingered for a while, I think he probably liked me. Then I heard the whistle blow for the train to start again. No passengers had entered or left my carriage, so I was safe to carry on my naughty little escapade once we had left the station.
I didn't wait that long though, the instant we started to slowly pull away, an urge, a complusion, overtook me, and I raised my dress up straight away, and parted my legs, putting one up on the sill of the window, and the other on the seat opposite. His face was a picture. I don't think he could believe what he was seeing. I couldn't believe what I was doing either. There I was exposing my pussy to a complete stranger in a train station, and before we had even left the station, and without me even touching myself, I came in a full bodied, extremely pleasurable orgasm. I was panting under my breath but tried very hard not to give the game away to anyone who might be within earshot.
Nowadays I don't bother with underwear when I am travelling on train. It wastes too much time removing them when I could be flashing and playing all the way. Can i put in a good word for my friends site? Erotic stories for couples. Thanks.
Helen 24
CLICK HERE to submit your own True Confession!
Originally posted 2013-07-16 08:09:43.