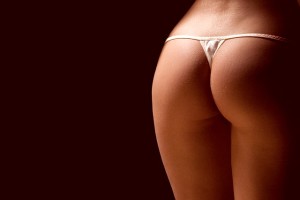 I have to confess that one of the things that gets me hottest is exposing myself when I'm at work. Not to anyone.  But to certain co-workers that I know won't snitch on me and I know will appreciate it.
When days are warm, I often wear cute little sundresses and go without panties.  I might wear some thigh high stockings to give the impression that I am covered but once you get past the thighs there's nothing but naked pussy.
On Friday I was feeling especially naughty and I knew that a certain co-worker would be around a lot. He always is on Fridays because he takes care of all his admin work, which means that he needs to come around to the reception area a lot.  And sometimes he has to go to the stock room to get forms and stuff like that. So, I wore a loose skirt that flowed under my hips and no stockings (it was particularly warm for this time of the year) and no panties.
When he went into the storage room to get something I knew it was my chance.
While he was looking for some forms in one of the cabinets, I entered the room.
"Good afternoon," I said quietly. "Don't let me bother you, I won't be but a minute."
And then I proceeded to pretend to look for something.  As if I didn't know where everything in that room was. But I took a couple minutes to "search". When I saw him glancing at me from the corner of his eyes, I said, "Oh, I remember where I put them now!"
I turned my back to him and bent over from the waist.  I felt the back of my skirt creep up.  I spread my legs slightly, looking in one of the lower shelves.  I could feel his eyes on my ass and I knew that my cheeks were exposed.
But that wasn't enough for me.
"Darn, can't quite reach…"
Then I got to my knees to reach forward into the depths of the bottom shelf.  I raised my ass slightly, spread my thighs, and gave him a good glimpse of my pantiless snatch.  I knew he could see the pink of my slit for just the brief moment and this knowledge made me tingle everywhere.
When I stood, he was staring into the file cabinet intently.
I raised the package of sticky notes in my hand.
"I have no idea why I would have put those there.  Such a silly place for them.  Oh well, have a good day."
His cheeks were crimson red when he met my eyes.
"Oh I will," he said.
I was going to have a good day, too.